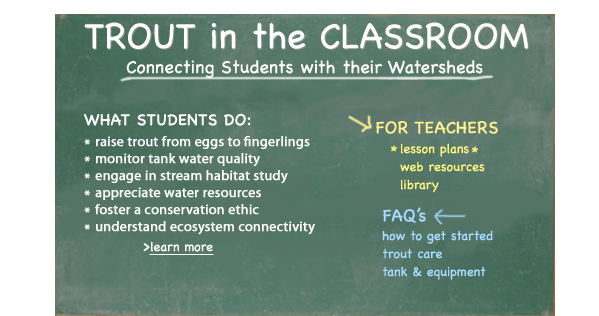 Trout in the Classroom
Sponsored by Trout Unlimited, Trout in the Classroom (TIC) is a conservation-oriented environmental education program for elementary, middle, and high school students. Throughout the school year, students raise trout from eggs to fry and then release them into approved cold water streams and lakes. This act of raising, monitoring, and caring for young trout fosters a conservation ethic within participating students and promotes an understanding of their shared water resources.
Teachers can tailor the program to fit their curricular needs, meaning each TIC program is unique. TIC has interdisciplinary applications in science, social studies, mathematics, language arts, fine arts, and physical education. More information on possible activities and lessons can be found on the TIC website.

Organization: Trout Unlimited
Categories: Environmental & Sustainability Education
Visit Website